Those who know me in real life know that I made a difficult but conscious choice to step away from my creative projects in late 2018, which is why I've been notably absent from blogging.


At the time I was processing my grief (and still am, if I'm being honest) due to my brother's death, while adjusting to a new life in a city far away from my loved ones.

What was intended to be a short break turned into a years-long hiatus, partly because I was focused on surviving on my own again while trying to manage my depression and partly because, no matter how hard I tried, I couldn't get the ideas flowing. I was aggressively shaking my brain like a magic 8-ball but no answers were coming.


The late 2010s were filled with a lot of trauma, loss, and failure for me, and while I'm glad I had the strength to (more or less) get on the other side of it all, to say I've fully recovered would be a huge lie. For a long time, I'd convinced myself that I just didn't have what it took to be a "creative" anymore and relegated myself to focusing my efforts strictly on my day job.

Taking on a passive role on social media, I found myself growing disenchanted with the toxic create-for-consumption influencer culture upholding capitalist, patriarchal ideals and the expectations of the fashion industry to always have the newest, trendiest, and most luxurious garments worn by Kardashian Klones, which made me feel (perhaps unjustly) villified in my decision to step away.

I focused my efforts on my personal growth outside of my creative exploits, and while I have since strengthened my interpersonal relationships and built a New York life that I absolutely love, I still couldn't shake the deep-seated emptiness.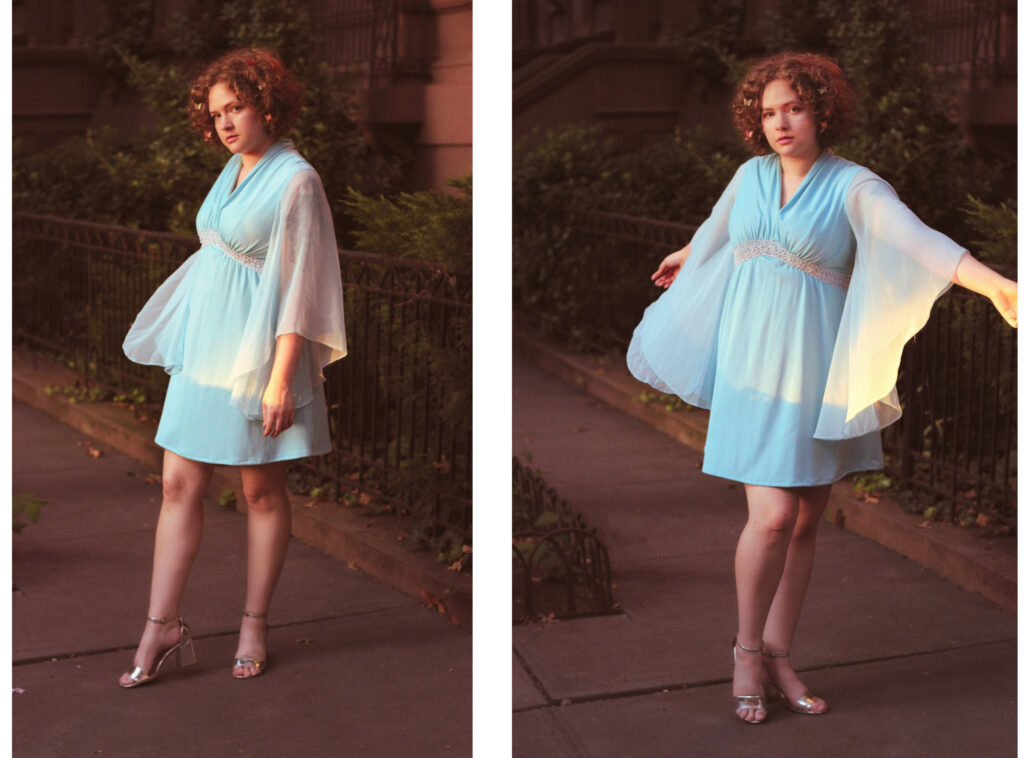 I took some time recently to really reflect at the beginning of 2020. I realized how much I missed making for the hell of it–for ME, dammit. After dabbling in editorial styling work earlier this year (pre-pandemic), I started feeling the itch to document my outfits again.

With a lot of support from my partner and incredible advice from my close friend circle, I've made it a point to put myself out there again and use my platforms as a vehicle to create the change I want to see in these industries, to prioritize uplifting and connecting with people who are pushing for change and reshaping the culture.

I want Cats in My Closet to rekindle that spirit of early aughts blogging days, where we all just sort of shared with each other without precedent or expectation of being sold to or perfect. I want to use this space as a way for us to build deep, meaningful connections with each other as we try to make sense of our existence in this life. The world needs more authenticity and vulnerability, and sometimes you just need to serve as a living reminder.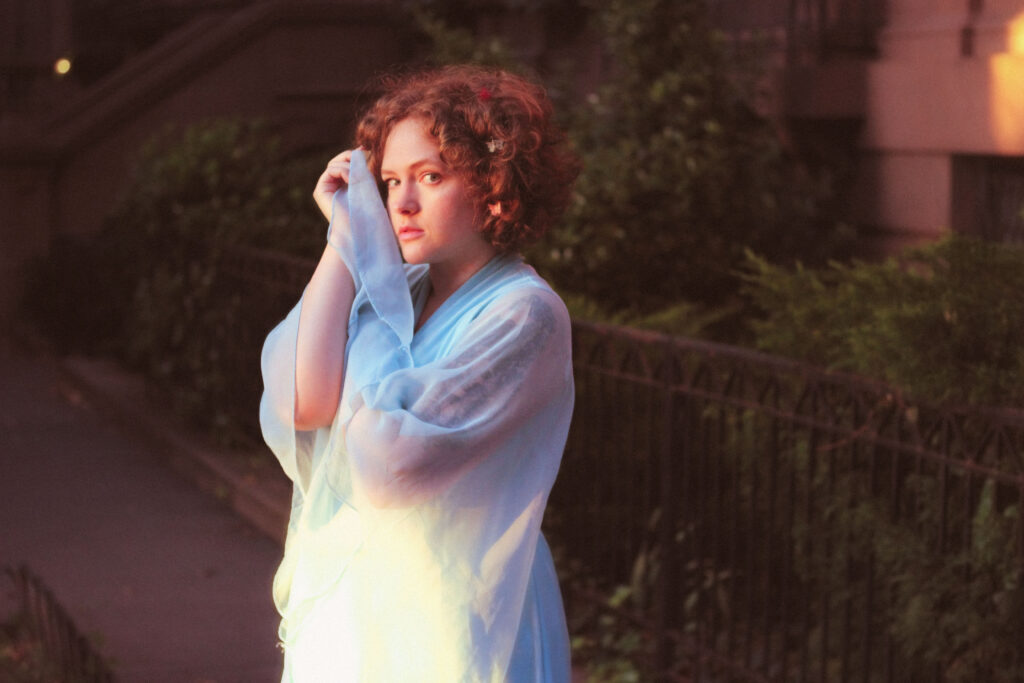 Being in my 30s has provided me with a self-assurance I never expected. My taste and shopping strategy have changed a lot since 2018. I ended up selling and donating a lot of items in my closet because they didn't feel like "me" anymore. I don't update my wardrobe nearly as much as I used to because I realized how much fast fashion I was buying and quickly discarding, and I feel confident in saying that's just not who I am anymore.

I'm lucky that I have a pretty well-paying job now which affords me the luxury of being more selective about what I bring into my closet, and right now I've centered my efforts on buying secondhand and vintage which brings us to this beautiful dress from Parasol Vintage.

I'd been wanting an angel sleeve dress for some time and was so happy when I found this beauty on Parasol Vintage's Instagram. I elected to shorten the length because I'm petite, but I think this alteration really brings focus to these gorgeous sleeves. I had a lot of fun playing with them in the light of the early evening amidst the stunning historic backdrop that is Brooklyn Heights.

All in all, it feels great to be inspired again.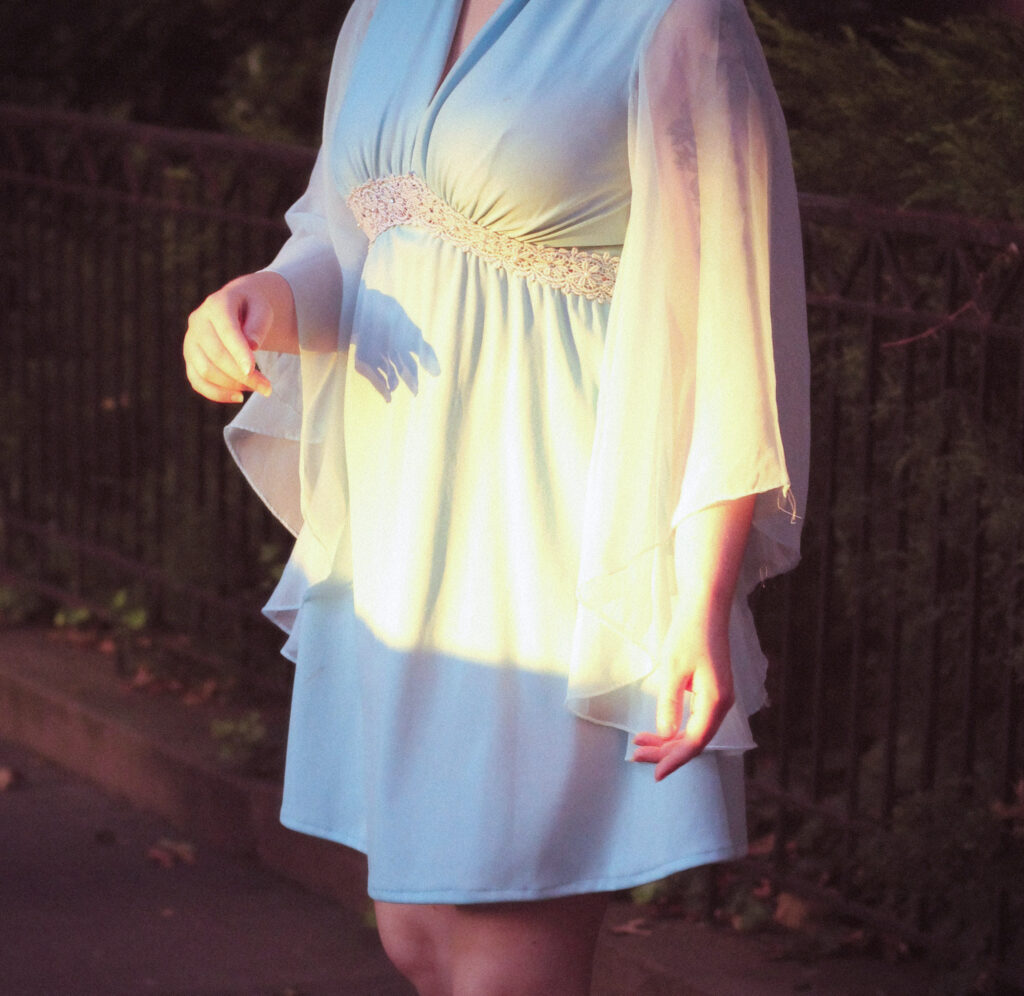 Outfit Details:
Angel sleeve dress – Parasol Vintage
Butterfly clips – The Lucky Charm Co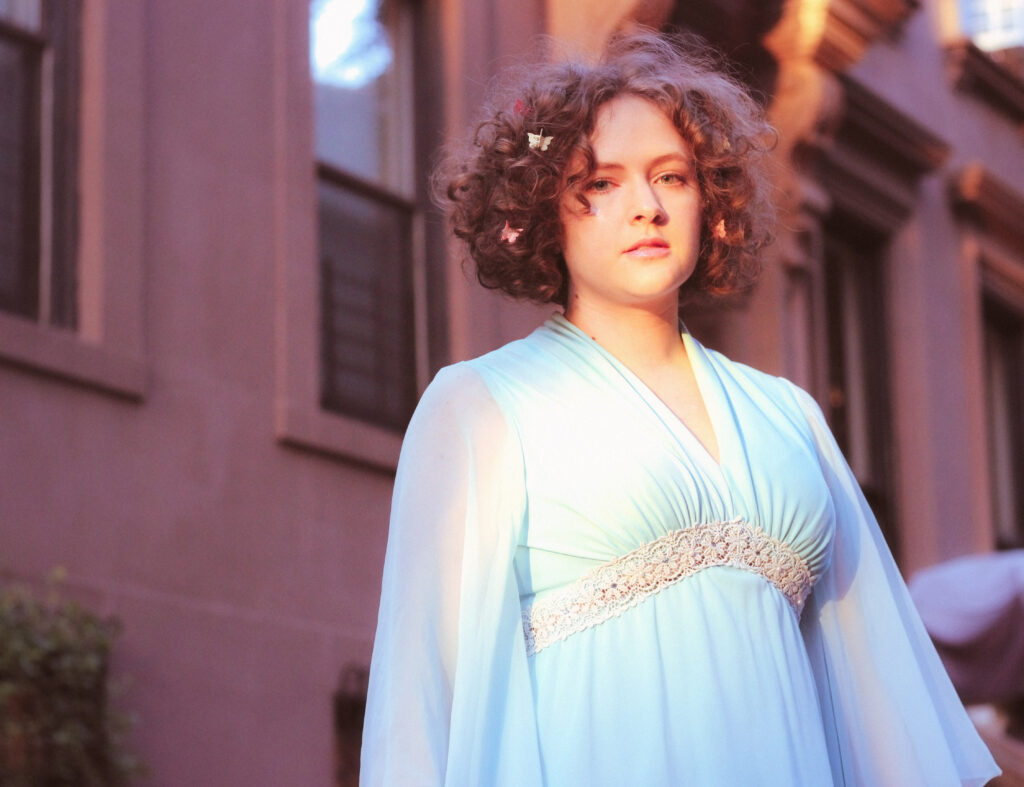 'Til next time, kittens!
Shop the Post